Regular Oil Changes at Balise Hyundai of Fairfield Will Keep Your Vehicle Running Great!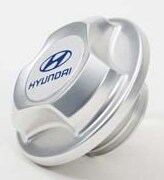 Every driver has been told that they need to have their car's oil changed regularly, but how important are oil changes, really? Well, they help keep your car running smoothly, protect it from engine damage and can extend your vehicle's lifespan, so oil changes really are as important as they say. Oil protects your engine from friction and heat damage to keep everything running smoothly. But as it gets older, oil starts to break down, which can corrode your engine and cause some serious damage. To prevent that damage and keep your engine running smoothly for years to come, all you need to do is have your oil changed on a regular basis.
In your owner's manual, you should find a recommended maintenance schedule; this will tell you how often your oil needs to be changed. But since other factors like your driving habits and the weather can affect how often your oil should be changed, it's a good idea to ask a trusted technician for advice. At Balise Hyundai of Fairfield, we would be happy to help. Our Hyundai-trained technicians will help you come up with the best schedule for your vehicle and help you keep up with it so your car stays in great shape. In addition to giving great advice, the technicians in our service center are highly skilled and experienced, so you can trust them to get the job done right. We know the right way to care for your Hyundai so you can feel confident getting behind the wheel.
We are happy to care for Hyundai vehicles and all other makes and models, as well. Our technicians know the best ways to change your oil, and we know what else your car needs to stay in great shape. For example, when you bring your car in for an oil change, we know that it should also have a tire rotation. When your tires stay on the same wheels for too long, they wear unevenly and prematurely; having your tires rotated regularly prevents that uneven wear, extending the lifespan of your tires.
When the time comes for your next oil change, be sure to schedule your service with us. Also be sure to check out our available service specials like our Basic Required Service, which includes an oil change, to save on your auto service. We will change your oil and take care of any other service your vehicle might need, so you can get back out on the Fairfield roads with your vehicle running at its best.